Unlocking loyalty for Pret's US customers
THE CHALLENGE
Pret A Manger wanted a payment app for US customers that both translated the distinctive Pret experience into the digital world and transcended expectations. With many US competitors already offering in-app payment, how could Pret launch a new app that would make waves, while rewarding customers for shopping with them?
x2
CUSTOMER STICKINESS COMPARED TO COMPETITOR RESTAURANTS
70%
MORE ORDERS PER STORE PER WEEK VS. COMPETITORS
4.4
AVERAGE RATING IN APPLE APP STORE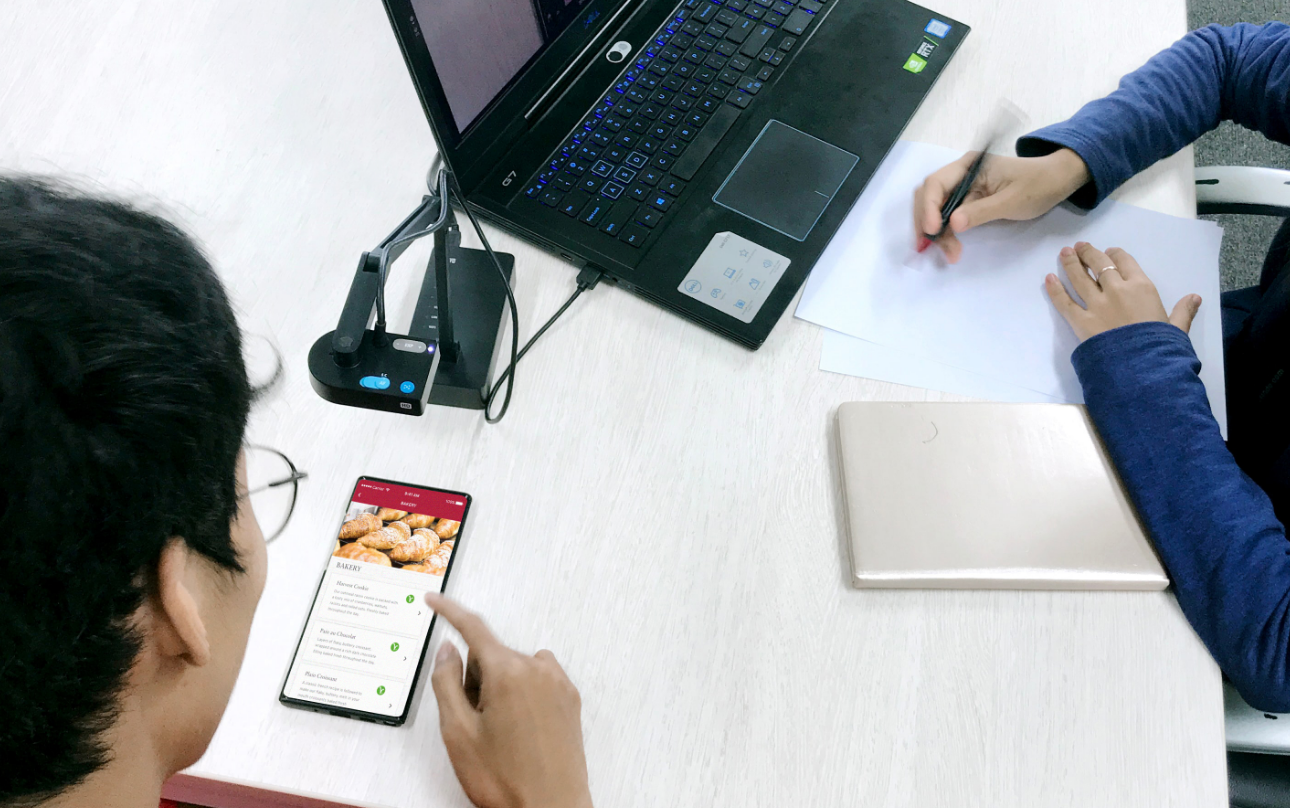 DISCOVER
Historically, Pret team members would treat customers at random through their much-loved 'Joy of Pret' initiative. Incorporating the same generosity and reward for loyalty into the app would drive engagement and give us a way to measure success against Pret's business objectives.
Usability and design would be key to the success and adoption by US Pret customers, so it was vital for this sharing and gifting aspect to be woven into the app infrastructure from the outset.
DEFINE
Working alongside US retail payment app specialist LevelUp, and using their core app as a base, we mapped out user journeys for all sections of the app, including where user actions would trigger system or marketing emails.
These user flows informed the build of fully functioning wireframe prototypes, along with a full interaction model outlining all app screen transitions and interaction behaviour. This was topped off with a concept design that showcased the app's unique payment and loyalty mechanic while bringing the look and feel of a Pret shop into the app.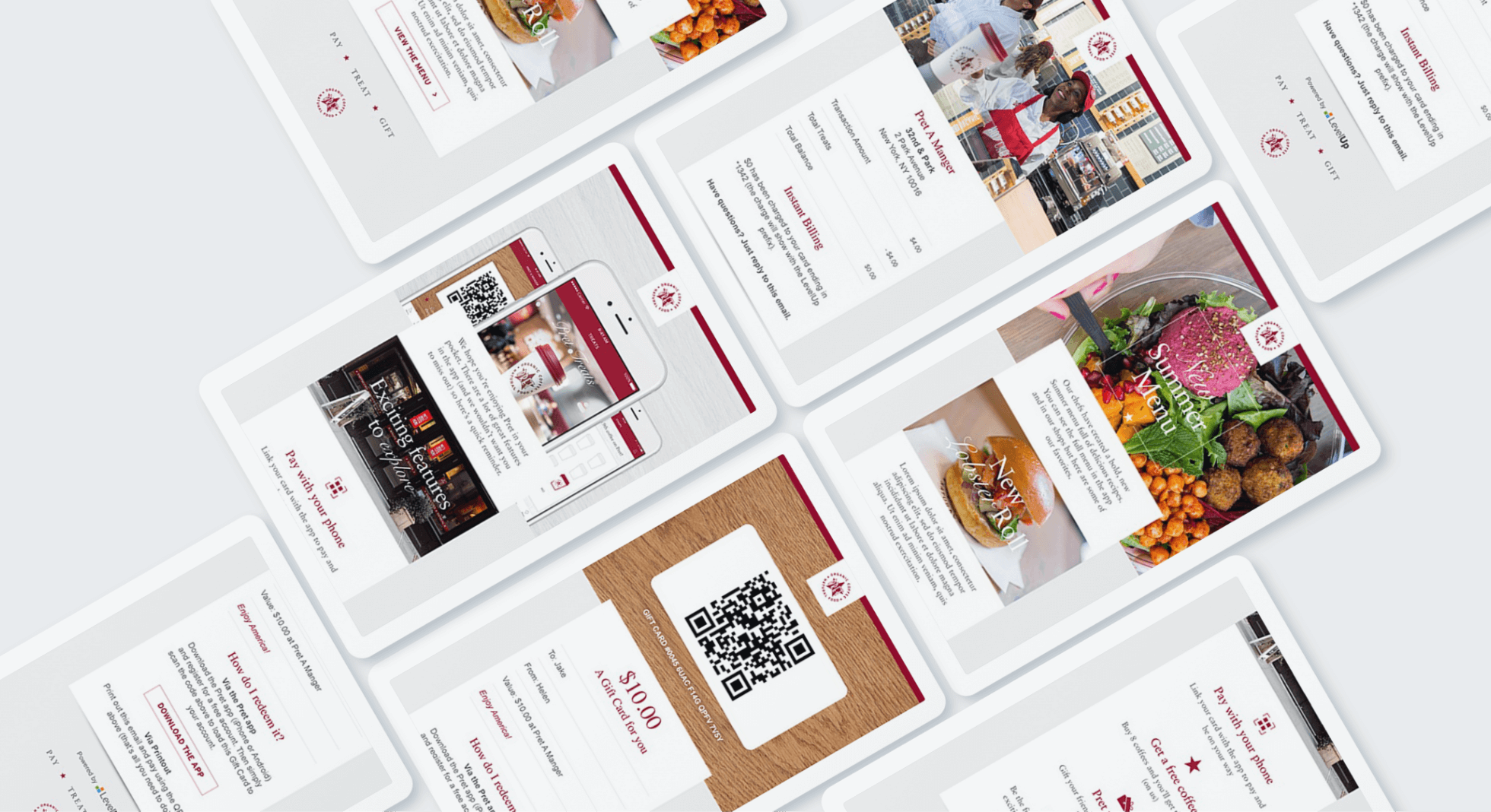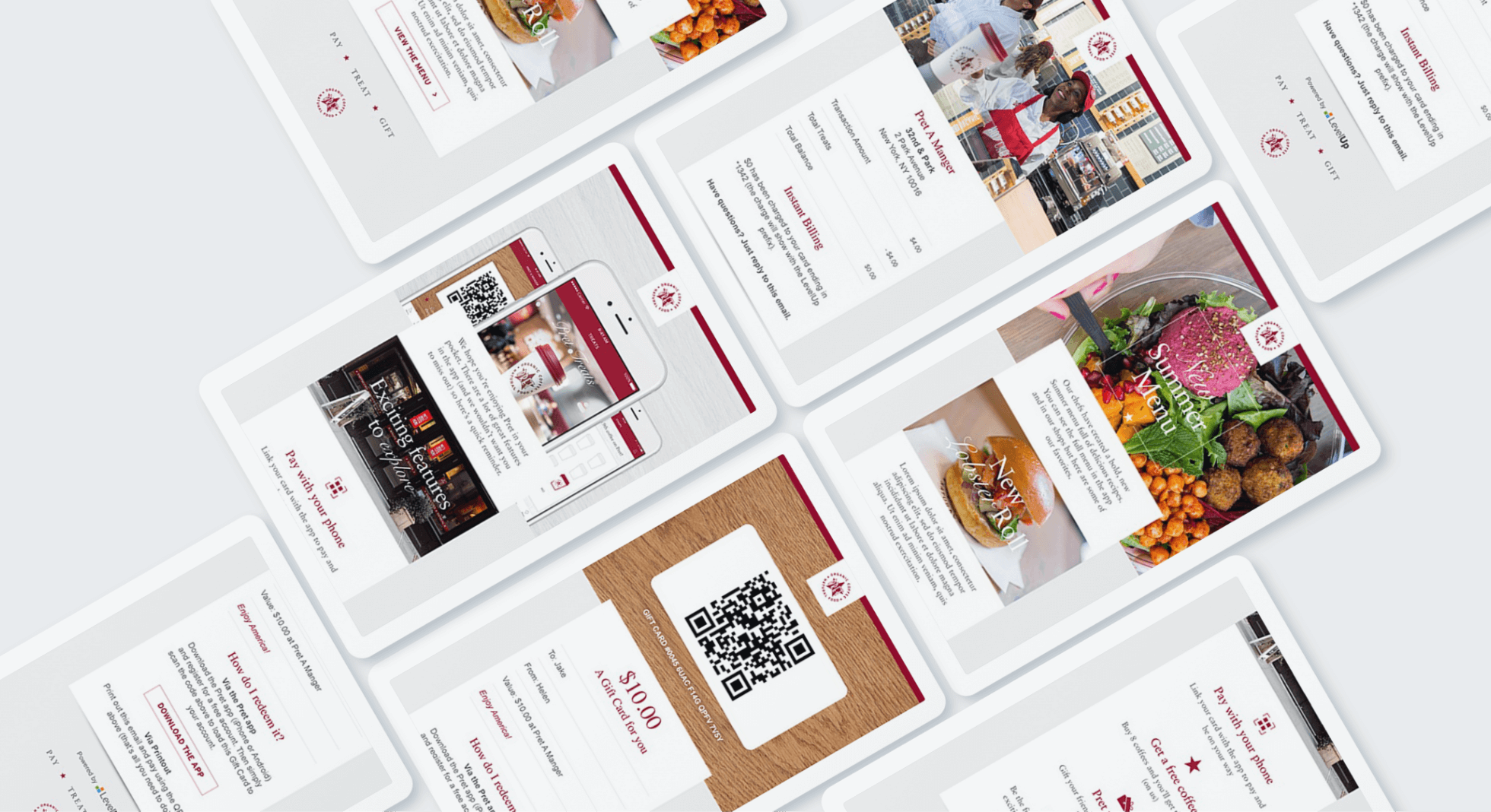 DEVELOP
Working with UK and US marketing teams, we organised a one-month closed customer trial of the beta version of the app across all Pret shops in Washington DC, including lab-based user testing to validate the app's information architecture and interaction behaviour. This also included focus groups with trial participants to stress-test creative routes.
The results of all these trials and tests informed a number of revisions and refinements that fed into a launch version of the app which was perfectly designed to the nuances of the US market.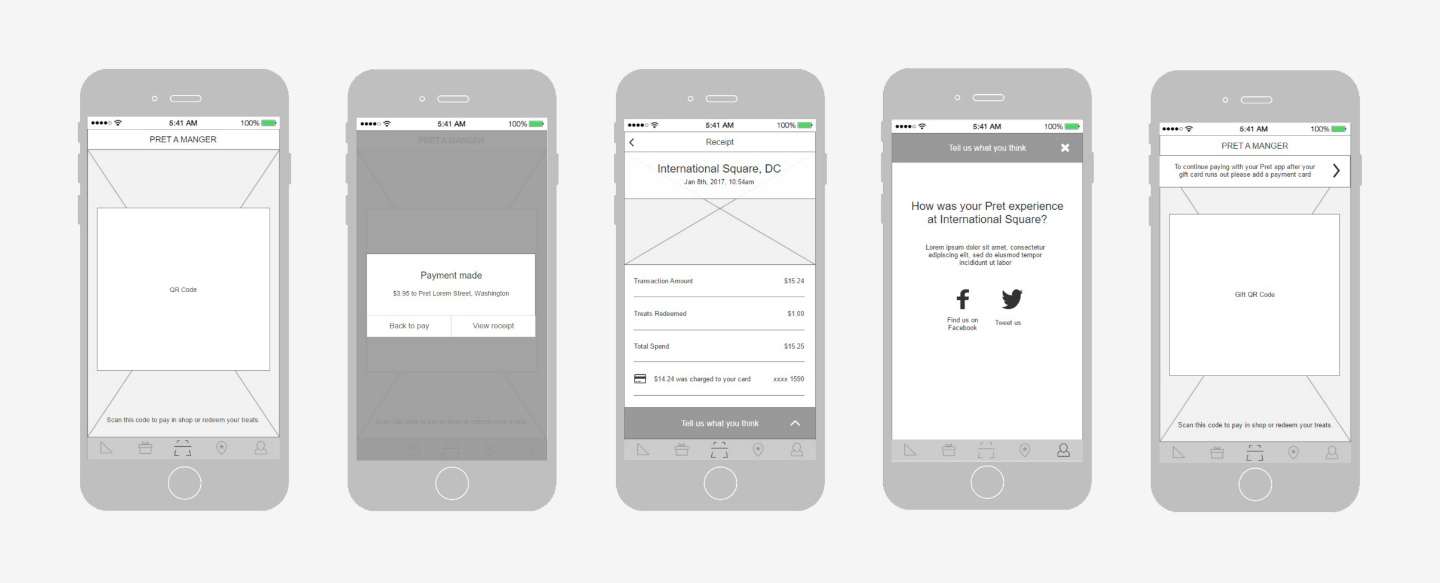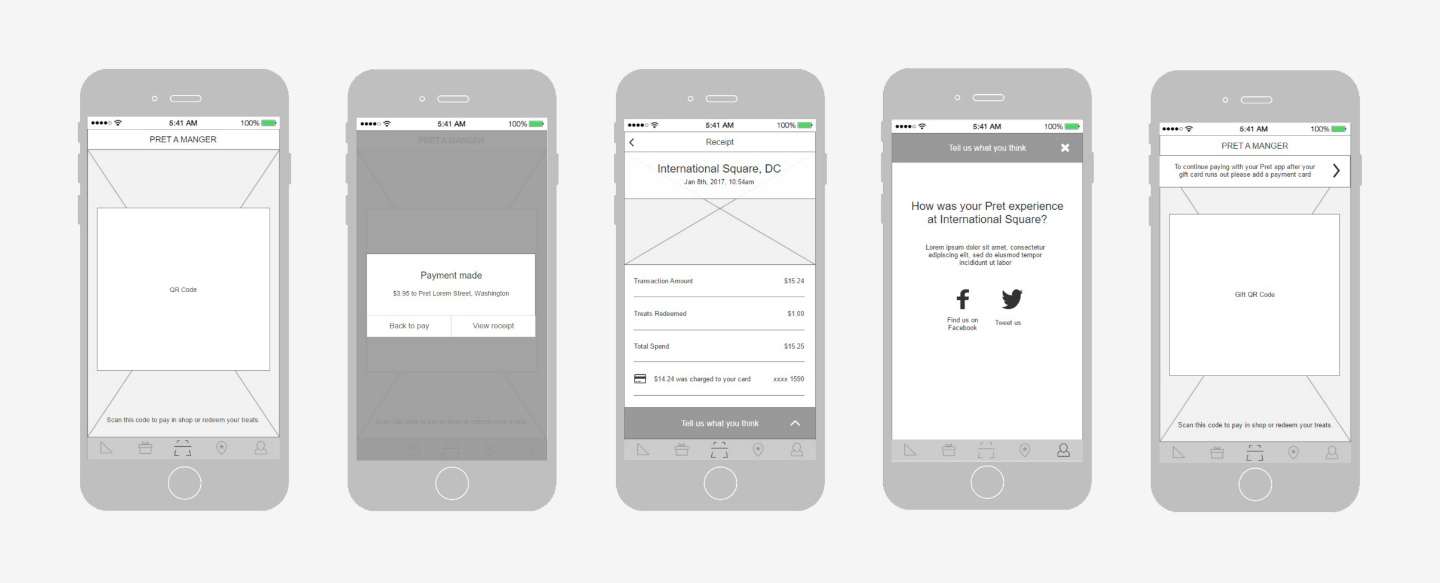 DEPLOY
App download is just one barrier in the customer journey. Usage is a much tougher one. Focusing on regular behavioural 'nudges' over a longer period would provide the greatest chance of success.
We created an integrated channel strategy, led by direct comms, to build anticipation and demonstrate value and ease. Assisting in the development of the app gave us the foresight to build in preference data to better serve targeted messages. The CX insight of rewarding key behaviours above order value would be key to the app's success, leveraging the Pret brand to aid differentiation in an otherwise transactional environment.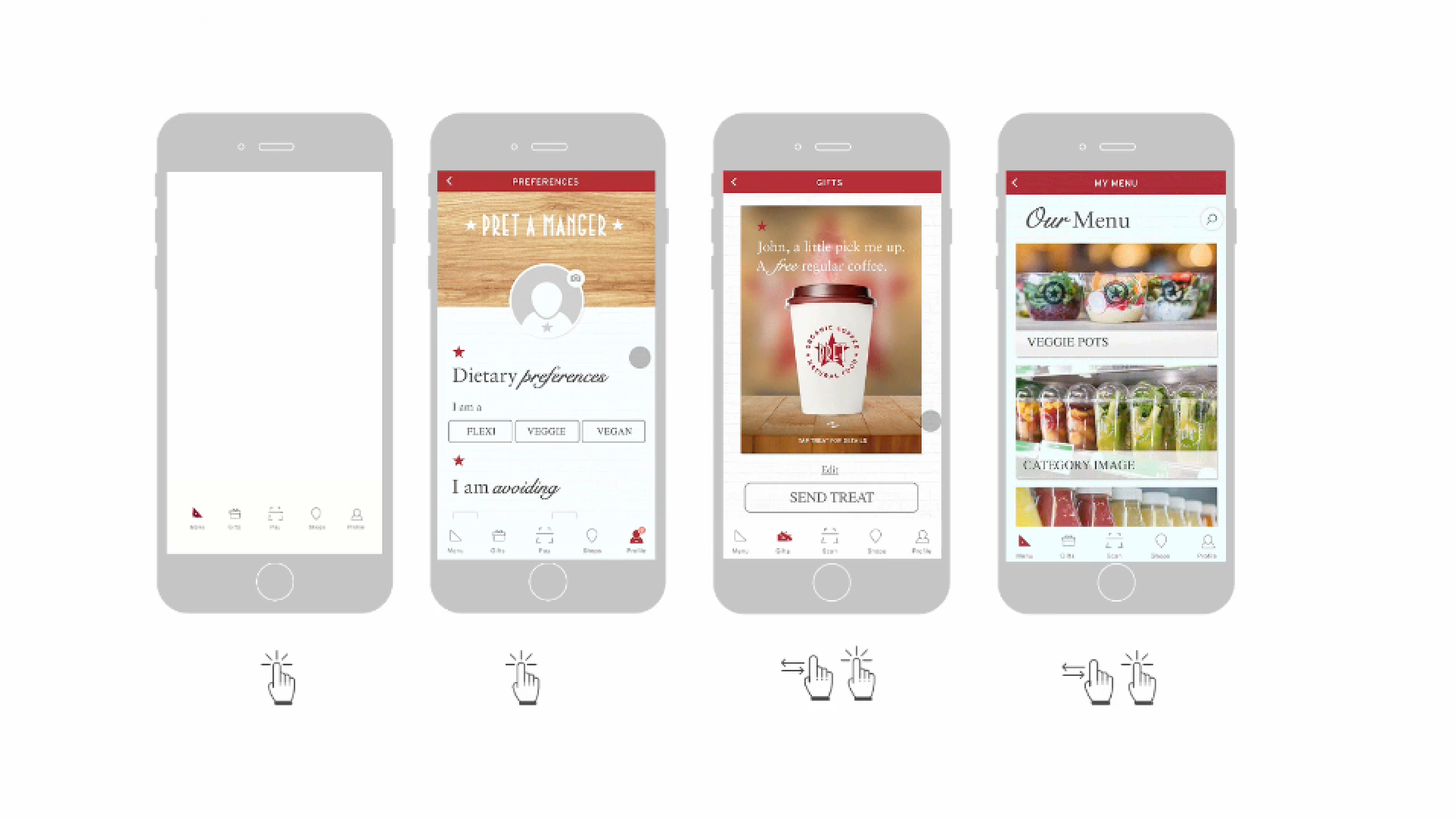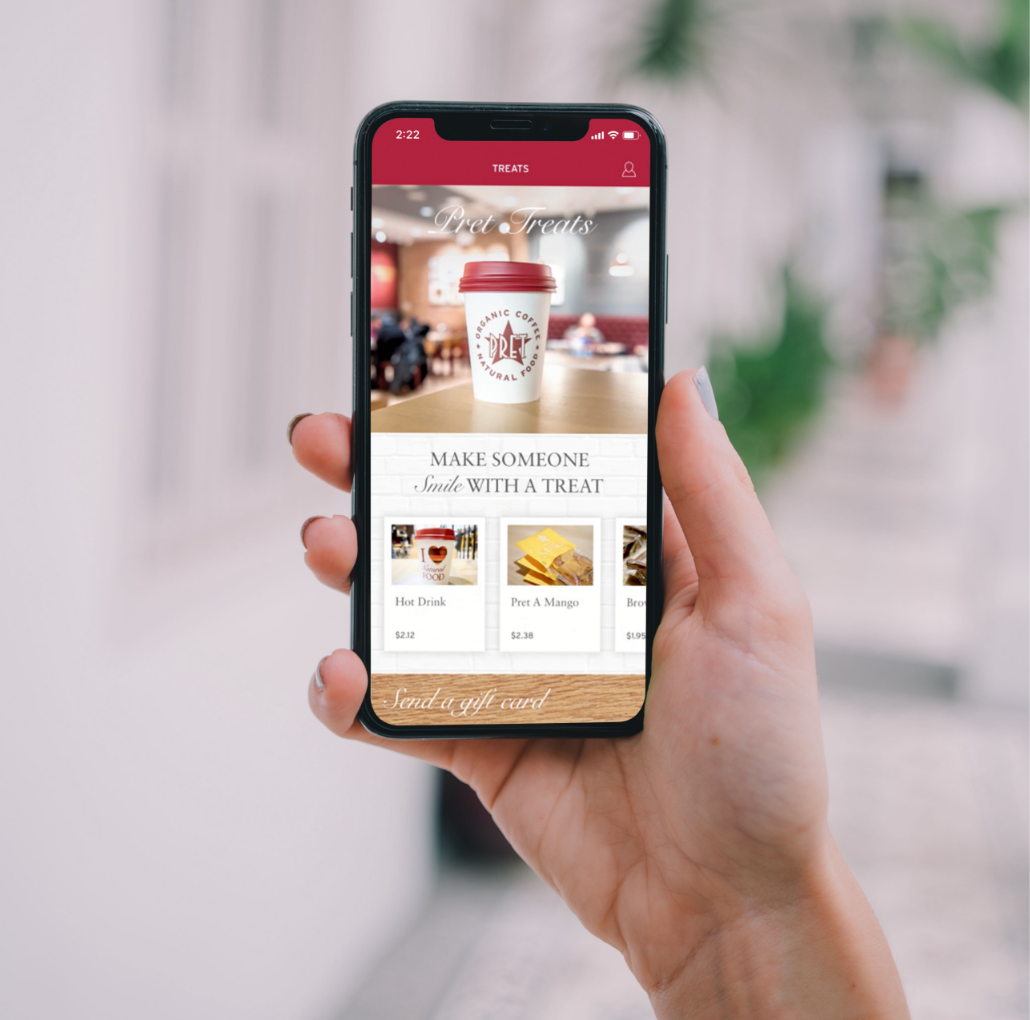 THE RESULT
Pret launched a payment and loyalty app like no other. Unique app features were informed by usability testing and validated by real Pret customers.
By listening to Pret customers we delivered an app which saw online orders rise by 70%. Plus, we saw a 14% bump in order value.
Double the customer stickiness compared to competitor restaurants
70% more orders per store per week vs. competitors
4.4 average rating in Apple App Store
MORE CASE STUDIES
Read more examples of how krow.x has used Creative CX to get results for its clients.